Electrically Heated Tubing Bundles
More Information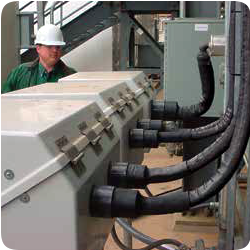 Thermon TubeTrace® Type SE/ME
Small diameter lines are heated for many reasons including freeze protection (winterization), reduced viscosity, and keeping gas samples above their dew point. These can be critical for process accuracy, emissions compliance, and even plant operation.
Steam and electrically traced instrument tubing bundles represent lower installed costs and increased reliability for flow, level and pressure transmitters (as examples).
Thermon manufactures every type of resistance heat trace available in the world today. Standard products are certified for use in ordinary (nonclassified) areas and in potentially explosive atmospheres in accordance with ATEX Directive and the IEC Ex Scheme.