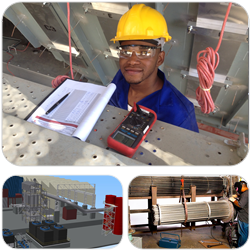 We offer a full-range service from basic engineering to complete heating solutions, extending from feasibility stage to installation.
We have an extensive track record in the implementation of large turnkey contracts.
Thermon SA has the expertise to deliver projects with the quality and safety that clients expect.
Our services also include technical support & training.
Engineering
Consultation & Design
Process evaluation & optimisation for thermal efficiencies
Conceptualisation of thermal systems
Engineering design documentation
Project management
Manufacture
Supply and manufacture of system components Installation
Onsite installation & site supervision
Repair & refurbishment
Technical Support
Assistance with technical set-up
Repair & refurbishment of electrical heating systems
Maintenance
Training
We aim to provide focused training, short and practical hands-on workshops, that will provide immediate benefit to the participant and his/ her job function.