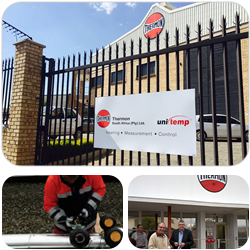 Thermon South Africa (Pty) Ltd, previously unitemp cc, is a South African based thermal engineering provider serving a variety of industries including Petrochemical, Power Generation, Mining, Manufacturing, Food and Beverage.
Electrical heating is our main area of expertise. We are involved in:
Design, supply & installation of electrical heat tracing & steam tracing.
Repair & refurbishment of flanged heaters
Hopper heating
Drum & container heating
Manufacture of heating elements & temperature sensors
Design & manufacture of control systems
We offer complete heating solutions from feasibility to installation.
Heating systems can be Ex & ASME compliant. Our services also include design, engineering, technical support and training.
Thermon SA is an ISO9001:2008 certified company (download certificate)
History
In 1986, unitemp, a privately owned company was established, manufacturing heating elements for the plastics & packaging industry in South Africa.
The company diversed into other markets supplying customised heating systems, and measurement and control instrumentation.
In a strategic move to gain leverage for a future involving more complex project work, unitemp entered into a partnership with Thermon Group Holdings Inc.
On 1 April 2015 a new entity emerged called Thermon South Africa (Pty) Ltd.
Thermon holds a unique position as the only international trace heating company completely dedicated to its industry. Since 1954, Thermon has concentrated its efforts exclusively on heat tracing. Thermon is headquartered in Texas USA, with offices worldwide.
With the overlap in heating expertise, Thermon SA has the additional backing to fulfil the needs of the power generation, gas & oil + mining and minerals processing industries.
Capabilites
Design and manufacture
Repair and refurbishment of electrical heating systems
Import & export of electrical products and systems
Supply & distribution of heating products throughout Southern Africa
Service & maintenance of heating products
Engineering and R&D
Project management
On-site installation
Consultation
Technical training
Values
Maintain - as our hallmark - technical ability, innovative ideas and exceptional service.
Build long-lasting partnerships with our suppliers and customers, based on trust and synergy.
Contribute to the empowerment of people by transferring specialist knowledge and skills to our customers and to our employees.
Instil respect for the environment throughout the organisation. It is our responsibility to promote clean and energy efficient solutions.
Maintain high standards of ethical conduct, sensitive to the needs of the communities in which our businesses operate and conscious of our responsibilities to health and safety.
Markets
We have participated in major projects in the petrochemical, oil + mining & minerals processing industries in Southern Africa
Other markets where we have been involved:
Plastics & packaging
Food & beverage
Fishing & shipping
Chemical & pharmaceutical
Petrochemical
Mining
Textile & dyeing
Wood & furniture
Shoe & leather
Cigarettes & tobacco
Agricultural, horticultural and animal husbandry
Refrigeration, HVAC, Cold Chain
Engineering, automation & system integration
Occupational hygiene & health care
Brands
We represent a number of leading principals from around the world, thereby having access to an extensive pool of engineering knowledge.

heat tracing

electrical heaters

automation & sensors

coil & cartridge elements

hot air tools

hotrunner systems

ceramic infrared elements


infrared heating

electrical process heaters

hotrunner controls