Melt Pressure Transducers, Sensors, Transmitters
More Information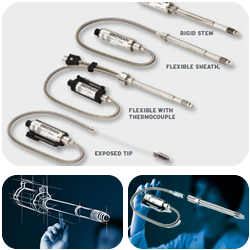 Melt Pressure Transducers and Transmitters
Gefran Fuid Free | Sodium-Potassium- | Oil- & Mercury filled transducers
GEFRAN Melt sensors are pressure/ temperature transducers and transmitters that measure Melt medium pressure in high temperature environments (up to 538°C).
Melt pressure can be measured in four main process temperature ranges:



View products!
Browse our catalogues & add products of interest to your "enquiry list" or
contact us
to discuss your requirements.
Extensimetric Technology
with filling fluid

The operating principle is based on hydraulic transmission
of pressure by means of filling fluids with low coefficient
of compressibility:
mercury (M series), FDA-approved
diathermic oil (W series), and sodium-potassium NaK mix (K
series), defined as a substance Generally Recognized As Safe
(GRAS).
Therefore, the entire structure is built to transfer the
pressure exerted by the medium on the contact diaphragm
to the transduction part, i.e., measurement diaphragm with
the strain gauge, keeping it away from the heat source.
The strain gauge then transduces the physical pressure
quantity into an electrical signal.
Piezoresistive Technology
entirely fluid free

Innovative IMPACT sensors (I series) are pressure transmitters
without transmission fluid: medium pressure is transferred
directly to the silicon sensitive element by means of a thick
diaphragm.
Physical stress is transduced by a Wheatstone bridge with 4
piezoresistors.
Gefran's IMPACT series, with proprietary technology, provides:
High strength (up to 35 times stronger than traditional sensors)
High response speed
Extremely easy installation thanks to a modular sensor
High safety standards (conformity to Machinery Directives
4 different Designs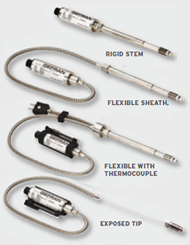 Gefran high-temperature pressure transducers are generally
available in four versions:
Rigid Stem
Flexible Sheath
Flexible
with Thermocouple
Exposed Tip
(except for the IMPACT
series).
Selection Guide
Please click on the Gefran series of suitable transducers to find more info & request a quote.
Features


Please click on the sensor category above for more information.
Mercury-free solutions
Sensitive to environmental issues, and in full harmony with the RoHS Directive (2002/95/CE), GEFRAN offers a wide
range of mercury-free Melt sensors, both with filling fluid (
oil
or
NaK
) and
fluid free
(IMPACT).
GTP
The new GTP coating, the result of Gefran research, guarantees longer Melt sensor life thanks to:
Greater hardness
Resistance to high temperatures
Low coefficient of friction
Certifications
ATEX and Factory Mutual
Gefran MX, Gefran WX or Gefran IX (Atex) and Gefran MF or Gefran WF (Factory Mutual) transmitters and transducers are certified based on their respective protection and safety requisites, and can work in potentially explosive atmospheres.
Performance Level 'c' (PL'c' EN13849-1)
IMPACT is available in the IMPACT PL"c" version, conforming to the safety requisites of the recent Machinery Directive
2006/42/CE and EN1114 specific for extruders. IMPACT PL"c" features intelligent electronics with Auto Diagnostics to detect possible faults.
An integrated relay in the electronics changes state in case of overpressure or if the setpoint is exceeded.
Increased safety on the IMPACT PL"c" is completed by full conformity to Namur NE21 and NE43 recommendations.

Contact us to discuss your requirements
>>