Thermon Terminator ZE-B Beacon: End of Circuit Light
Stock Code:
SKU: Thermon-ZE-B
Powerful and cost effective end of circuit light used to give visual indication that the circuit is energized
32 LED's for superior viewing, day or night, from virtually any vantage point
Non-metallic kit designed for rapid, trouble-free installation of Thermon parallel resistance heating cables (BSX, RSX, HTSX, KSX, VSX, FP, HPT)
Simplified cover installation
Applications for Thermon Terminator ZE-B Beacon End-Of-Circuit Lights
Terminator Beacon end-of-circuit light kits are designed specifically for rapid, trouble-free installation of Thermon self-regulating and power-limiting, parallel resistance polymer insulated heating cables.
The integral design of these nonmetallic kits combines the pipe-mounted fitting, heating cable grommet and cable strain relief with end-of- circuit voltage indication into a single assembly.
Screws have been eliminated from the kits to simplify installation.
The Terminator Beacon utilizes a high intensity green LED assembly for superior day or night visibility. This light is also available with a high intensity red LED. A domed lens allows for enhanced viewing from elevated locations.
Terminator Beacon kits are approved for use in ordinary (nonclassified) areas, and are certified to the ATEX directive for use in Category 2 and 3 (Zone 1 and 2) classified area's.
Certifications/ Approvals
II 2 G Ex eb mb IIC T6 FM 10ATEX0058X
II 2 D Ex tb IIIC T85°C
International Electrotechnical Commission
IEC Certification Scheme for Explosive Atmospheres
FMG 10.0022X
Ratings
Enclosure rating: IP66
Maximum pipe exposure temperature: 250°C
Minimum installation temperature: -60°C
Operating voltage rating: 100-277 Vac
Operating ambient temperature: -60°C to +45°C
T-rating: T6 85°C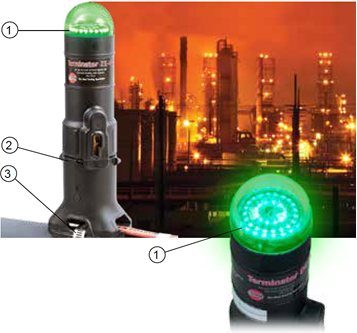 LED end of circuit light
Pipe-mount expediter, glassreinforced
polymer
Stainless steel pipe attachment band

Below is a list of tags that have been applied to this product. Clicking on a tag will display a list of all products with that tag applied.