Define Instruments TEX -MP100 Melt-pressure indicator
Stock Code:
SKU: product options
This controller is ideal for displaying and controlling melt pressure in various applications.
It is particularly suited to injection molding machines.
5 buttons
13mm LED display
6 digits setpoint indicator LED's (R4, R4A, R4S & R4AS only)
IP65 dust and splash-proof
Panel mount case - (H x W x D)
48 x 96 x 119.5mm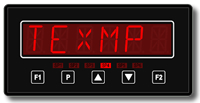 The TEX-MPT100 has been designed for those applications where temperature control is a critical factor in injection molding.
This combination of temperature and pressure control gives you the accuracy needed for advanced plastics molding. This meter is the easiest you will ever find to set up, calibrate and adjust.
Sensor inputs
2-3.5 mV/V
(80% shunt cal)
Excitation 8V DC provided
Excitation
8V DC provided by controller
Resolution
16-bit
Sampling rate
10Hz
Accuracy
0.005%
Temp drift
Typically 50ppm/°C

Optional

Relay outputs
4 x 5A form A
Analog output
Isolated 16-bit 4-20 mA or 0-10V output
Serial port
Isolated RS232/485
Below is a list of tags that have been applied to this product. Clicking on a tag will display a list of all products with that tag applied.