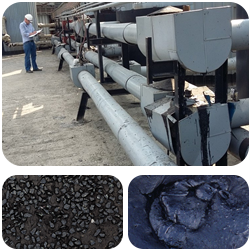 Bitumen processing: Temperature maintenance
Asphalt/ bitumen is typically stored and transported at temperatures around 150°C. At ambient temperatures, bitumen has a solid or semi-solid consistency and softens gradually when heated. For optimum viscosity it is melted directly out of drums.
Bitumen is a dark brown to black viscous liquid or solid, consisting essentially of hydrocarbon material. The bitumen used in South Africa is obtained as an end product of the petroleum crude oil refining process.
The primary use (70%) of asphalt/ bitumen is in road construction, where it is used as the glue or binder mixed with aggregate particles to create asphalt concrete.

Typical process heating solutions
Thermon solutions typically used in the storage, transport & supply side of Bitumen processing:
Case Study: Temperature Maintenance of bitumen tanks & pipelines
submitted: