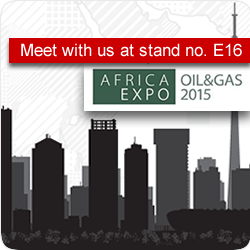 Africa Expo, Oil & Gas, 8th/ 9th September, Johannesburg
Thermon South Africa invites you to join us
at the Africa Oil & Gas 2015 expo.

Register for FREE as a visitor
Africa Oil & Gas showcases insights and expertise from case studies and thought-leaders in Africa's market.
The exhibition hall features the latest brands,
technologies and services in Oil & Gas.

View a live product demonstration
at the Thermon SA stand no. E16

Meet our overseas expert: Peter Baen,
Vice Chair of the Petroleum & Chemical Industry Committee (IEEE/IAS-PCIC)
and Steam Tracing Specialist.
Date: 8 Sep (Tues) & 9 Sep (Wed) 2015
Time: 9:30am - 5:30pm (Tues), 9:30am - 4:30pm (Wed)
Venue: Sandton Convention Centre, Johannesburg
Register: Get your FREE Visitor Pass

For further information on Thermon SA's involvement in Oil & Gas
contact our Business Development Manager, Bryn Harries.