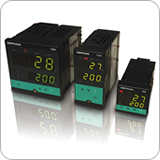 Avoid unneccesary expenses with a reliable partner - Gefran

Problem
Your process overheats, the elements burn out, and you produce tons of scrap: reason being failure of the temperature sensors or solid state relays.
Gefran controllers offer an intelligent solution
When the controller switches the elements on and does not detect a resulting rise in temperature, it recognises the problem and activates an alarm. You can also configure it to default to a predetermined output power. This allows completion of a run even if the sensor fails.
Conventional controllers cannot detect thermocouple short circuits or a thermocouple being out of position, so sensor fault is not registered. Gefran can.