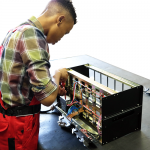 Thermon SA: Hotrunner Control Panels
Stock Code:
SKU: TSA-On-site-Tecnical-Services
We design, manufacture and install electrical control panels for hotrunner systems.
Controlling injection moulding systems is an art when it comes to processing engineering materials or products of intricate design. Thermon engineers have successfully designed a modular hot runner control system based on the Gefran 600 Temperature Controller, making the control of moulds easy.
The modular design affords easy replacement, repair and expansion of heating zones, ranging from 3 to 12 zones per rack.
In addition to standardised hot runner control panels, panels designed as per the customer's requirements are also an option – this includes, but is not limited to, increased zones (beyond 12 zone), increased power per zone, increased functionality.
All panels are manufactured locally, reducing lead time and increasing repair response time. In close co-operation with Thermoplay, a global manufacturer in hotrunner technology, we also offer a wide range of heating nozzles, moulds, bi-injection, multi-materials and sequential injection using pneumatic and hydraulic valves also for gas filled products – offering all-encompassing services for hot runner repairs and maintenance.
Below is a list of tags that have been applied to this product. Clicking on a tag will display a list of all products with that tag applied.