Thermon CSR: FreezeTrace, Self-Regulating up to 66°C
Stock Code:
SKU: product options
Self-regulating heating cable for all freeze protection applications
Suitable for wet and dry applications
Flexible for quick installation, simple to use
For use on metallic or plastic surfaces
With braiding only for added safety
Operating Voltage: 240 VAC
Power Output: 20W/m at 10°C
Maximum operating temperature: 66°C
The narrow profile of CSR cables provide the flexibility required for freezer door applications.

Certifications/ Approval:

For a detailled quotation, please specify quantity in metres, below.
Construction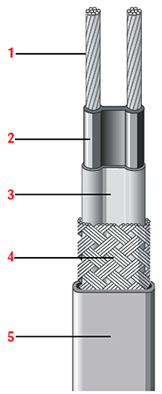 Bus Wires
Variable power heating matrix core
Cross-linked polyolefin jacket
Tinned copper metallic braid
Thermoplastic elastomer overjacket




Cross-Section: CSR heating cable, narrow profile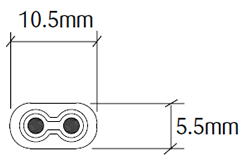 Accessories
This heating cable required CSR-Term-1-OJ for Power Connection and End-of-Circuit terminations. Contact us for more information and request a quote.
Bus wire: 16 AWG (1.31mm²)
Heating Matrix: Radiation Cross-linked Polyolefin
Primary Insulation dieletric: Radiation Cross-linked Polyolefin
Metallic Braid: Tinned copper
Standard Overjacket: Thermoplastic Elastomer
Supply Voltage: 240 Vac
Minimum Bend Radius: 32mm
Minimum Install Temperature: -51ºC
Maximum Exposure Temp. Power On: 66ºC
Maximum Exposure Temp. Power Off: 85ºC
Power Output: 20W\m at 10°C
Below is a list of tags that have been applied to this product. Clicking on a tag will display a list of all products with that tag applied.